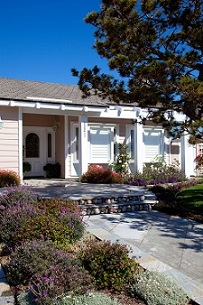 The first step to having a beautiful water-efficient landscape is developing a good plan. Our landscape management proposal details these services. Our friendly, qualified and experienced staff is on site to insure your home's landscape is managed properly. Our crew leaders know you and your property. Our clients can attest to the reliability of our staff. Glen's Landscape provides the ultimate value in professional landscaping.
We strive to deliver true value for our client's investment.
Consistant. Your crew arrives at the same time each week.
Efficient. Your crew is prepared, equipped, and productive.
Experienced. Your crew have been with us for many years.
Knlowledgable. Your crew attends seminars on pruning.
Responsible. Your crew handles the "unplanned" promptly.
Determine your needs
Too often homes are landscaped haphazardly, attractive plants are purchased at a garden center and then planted in the wrong place. Our first step in planning your landscape is determining what you want your home to be. Here are a few common interests to consider:
Curb and window appeal. Improve the view to and/or from your house.
Privacy. Screen your home or gardens from public view.
Conserve water. Reduce water use and maintenance needs.
Create an outdoor living space. Create a sanctuary for your enjoyment.
We know the perfect lumber yard company to create an awesome environment.
Provide recreation opportunities. Design play areas or structures for children or pets.
Entertain your friends. Establish outdoor cooking and seating areas.
Attract wildlife to your garden. Create a backyard habitat for birds and butterflies.
Grow a vegetable garden. Plant and harvest vegetables and fruit from your backyard.
Home Maintenance
We offer our clients a residential maintenance program specific to their landscape and tool options for when we are not on site to assist with maintenance such as shovels, rakes, and hose with the new layflat hose coupler. A trained crew will perform normal weekly service and some of the following on a rotating basis:
Pruning of ornamental plant material
Ground cover control e.g. ivy, vinca
Weed control
Fertilization of plant material
Leaf removal
Cleanup debris in landscaped areas plus regular lawn maintenance
Irrigation system adjustment and monitoring
Fertilization and weed control of turf area, we can help you order fresh sod online.